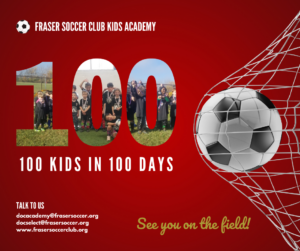 Interest in youth sports has taken a hit in our recent past! Whether it be the Covid-19 pandemic or an increase in technology, we see less and less kids participating in outdoor sports. We know that kids who participate in sports see physical and mental benefits. Team sports, especially, teach collaboration, responsibility, and time management. In an attempt to get more kids active in youth sports, Fraser Soccer Club has teamed up with other local community organizations to get more kids playing soccer this year. Our goal is to sign up 100 kids in 100 days for our Academy session! And we need your help.
With the FIFA World Cup in action, there is no better time to introduce a young person to the sport! You can have a profound impact on a child by introducing them to a new sport and allowing them to comfortably explore something new!
Help spread the word by sharing the link on social media and sending to friends, family, and schoolmates. Now is the time to allow our kids to be kids. Playing and growing together all while learning the exciting, beautiful game of Futbol…soccer!
ACADEMY DETAIL
THE FSC KIDS ACADEMY IS AN INCLUSIVE TRAINING BASED CO-ED SOCCER PROGRAM FOR KIDS AGES 4 TO 12 YEARS OLD THAT TEACHES THE FUNDAMENTALS OF THE GAME OF SOCCER AND PREPARES THEM TO PLAY IN A COMPETITIVE ENVIRONMENT.
FSC Kids Academy is comprised of 3 independent sessions. Fall, Winter, and Spring, Winter registration is currently open. The session includes 1 hour events, every Sunday through the session. Each weekly event is split between training and a scrimmage. During this time the kids will train together and develop their soccer skills while participating in small-sided games. A super fun & exciting tournament concludes the fall session. This program is perfect for kids that want to have fun playing soccer, but also prepare to advance to the appropriate FSC Select level where new teams are formed in June from U8 ages and up competing in league competition and tournaments.
Registration is open for 2023 Winter Season.
Fraser's Kids Academy is an introductory soccer program designed for beginner and developing players!
What will my kid learn in the Academy?
Basic Ball Skills
How to work with a team
The rules of the game
How to play with confidence!
What does the Academy do?
Teach skills through fun, kid-focused games
Introduce soccer terms
Scrimmage at the end of every session
Seasonal 3v3 tournament with all Academy players
What time is the Academy?
The Academy has weekly sessions on Sunday afternoons, each lasting an hour.
For birth years 2016-2018, the time is 3-4PM.
For birth years 2011-2015, the time is 4-5PM.
There are dedicated Fall, Winter, and Spring seasons with time off in between. (Winter session is next up! January 8 – February 26, 2023)
How much does the Academy cost?
Each season is $100 and includes a jersey!
What the Academy DOESN'T do?
Play games against other programs in the area
Belittle beginner players
win at all costs
Discourage kids from having fun & exploring the game of soccer